The altar is a location in the Submachine Universe with the coordinates 966. It was released to the Subnet with the rest of the first batch on June 8th, 2010.
Architecture and cultural influences
[
]
The room overlooks the void. The area itself is a balcony-like space, with a railing and big openings. The walls are made of bluish stone. The openings have Indian palace-style archways.
The drop zone's portal is on the far right. On the right wall of the room, there are three pipes that are familiar in style with pipes in Submachine 5: The Root.
To the left of the portal, there is a broken video display next to a chair. Similar video devices are also seen in the vista and in the end ruins. In the top right corner of the room, the is a metal plate that reads A1 = 8 / A2 = 4.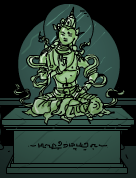 In the second leftmost room, there is a statue of Buddha, gesturing with Mudra (Sanskrit: मुद्रा), specifically, the Vitarka Mudra which signifies discussion and teaching, often found on Buddha statues. This seems to further support the theory that the statue is of Buddha. The base of the statue has a Latin inscription which reads "Scientia gravis est, praeter non mens et anima est.", meaning "Knowledge is Key, but is not Mind and Soul." On the head of the statue, there is a karma portal to the quiet rooms.
In the leftmost room, there is a small stone stand or altar with two pieces of paper of it. They have the Starks Hayters Karma and Portals Theory written on them. There are three more pipes here and another metal plaque saying NI = 842.
Map
[
]

See also
[
]
Submachine Universe locations