Annex

Region

Unknown

Unknown

596

Theories

V2.2 (2010-06-19)
The annex is featured in Submachine Universe and the SD version of Submachine 4: The Lab.
Architecture
[
]
The area consists of three rooms, totally void of all color. The wallpaper is the same pattern as seen in the basement. The rightmost room contains the portal and three numbers on the wall. In Sub4 the numbers are 596 to help the player remember how to get back here should they choose to return to another location in the game; in Submachine Universe the numbers clue to the research base.
The middle room contains a tablet on a stand. In Sub4 the tablet contains instructions directing the Player either to exit or to return to the game. In the SubVerse the tablet contains the "Essence Theory" by Asteriski.
The left room contains a circular lever. In Sub4 this lever is used to exit to the main menu, labeled "EXIT; NO RETURN". In SubVerse there is no label and when the lever is pulled the following message appears:
ROOT REQUEST / EXIT / = DENIED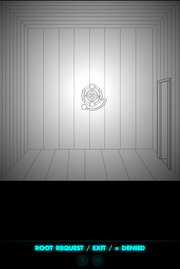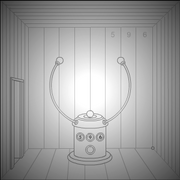 Quotes
[
]
"All the entrances are one way, and that way is in."
—
Asteriski
Map
[
]
Trivia
[
]
This location is not included in the HD version of Submachine 4.
See also
[
]
Submachine Universe locations