Barracks

Region

Unknown

Unknown

777

V1.0 (2010-06-08)
The barracks is a location in Submachine Universe.
Architecture
[
]
The ceiling, floor, and walls are all made out of metal, although the wall surrounding the doorways appear to be made out of wooden planks. Aside from the room with the portal, each room has a bed mounted on the wall with a sheet and a quilt neatly folded and a pillow on top. Lamps are installed in the ceiling. The floor in each room slants towards a hole in the middle, similar to a drainage system.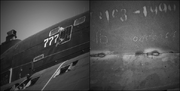 The leftmost room contains two black and white photographs taped above the bed. The left one displays a submarine with the number "777" (the coordinates of this area) on it while the right displays a metal panel with numbers on it. The numbers on top appear to be a time period between two years, ending in the year 1999, while the numbers below are faded. The line on the metal panel appears to have had welding done on it.
The rightmost room contains a panel with "RI=CCCLII" written on it.
Map
[
]

Trivia
[
]
There are two submarines that have the pennant number 777. One is the USS North Carolina and the other is the U-Boat U-777. Given the fact that the latter submarine was sunk during World War II, the barracks are possibly located in the former.
See also
[
]
Submachine Universe locations