Binary Chambers

Region

Unknown

Unknown

950

V4.5.2 (2017-09-19)

The binary chambers are a location in Submachine Universe.
Architecture
[
]
This location consists of several rooms with a tiled gray floor and cylindrical stone walls, illuminated by yellow lightbulbs. The drop zone features a binary portal made of a yellowish metal, connected to the main lab portal network in SubVerse. The portal has three coordinate buttons, each one with two possible states (on and off). The buttons light up in red when they are on; the on state corresponds to the coordinate "1" and the off state corresponds to "0" in the main portal network. Thus, the player can only access locations 000, 001, 010, 011 and 100 from this portal.
There is a bell/stand pair in the upper rightmost room with an inscription reading SEMOTUS, on which the player can place a bell cube found in the error room. Doing this and ringing the bell unlocks a new section in the Semotus basement. The location also features several gas canisters, a ladder and communication equipment made of the same metal as the portal.
A karma antenna can also be found in this location.
Gallery
[
]
Map
[
]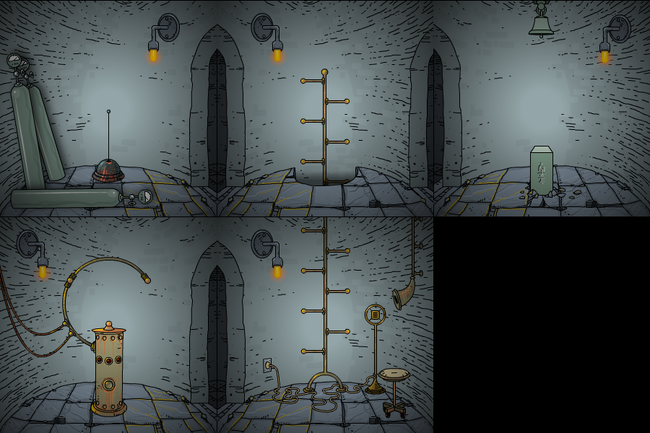 Trivia
[
]
The location's design was expanded from a single-room artwork produced in one of Mateusz Skutnik's live streams.
See also
[
]
Submachine Universe locations