The blue lever room is a location in Submachine Universe.
Architecture
[
]
This location is composed of five rooms. The walls are made of blue bricks covered by plaster on top of stone plinths. The floor and ceiling consist of large stone slabs. Each room has a unique symbol in the center of the floor. The doorways between each room are supported by a stone beam. Above each doorway is a stone triangle with the symbol of the adjacent room. Metal pipes run throughout the rooms.
In the top-left room, there is a damaged golden pedestal that serves as a karma portal stand for a karma portal leading to swt. The symbol on the floor is a circle. The top-center room has a huge crack in the wall and a golden ladder going downstairs. The floor symbol is a square. The room on the top-right contains an unknown metal object with a two pipes coming out of it. There is also a code plate in the bottom right corner. The ground symbol here is an eight-pointed star.
There are two rooms below. The left one has a mechanism that resembles a plunger detonator with a stone stand and three red lights on the side. Similar devices are found in the purple lever room and the orange lever room. The floor symbol is two concentric circles: the shape of the base of the device. In the right room, there is some sort of screen or viewing chamber connected to the wall with a tube. It emits a yellow-green light. A theory by Rooster5man is taped next to the ladder. The symbol on the floor is a diamond.
Gallery
[
]
Map
[
]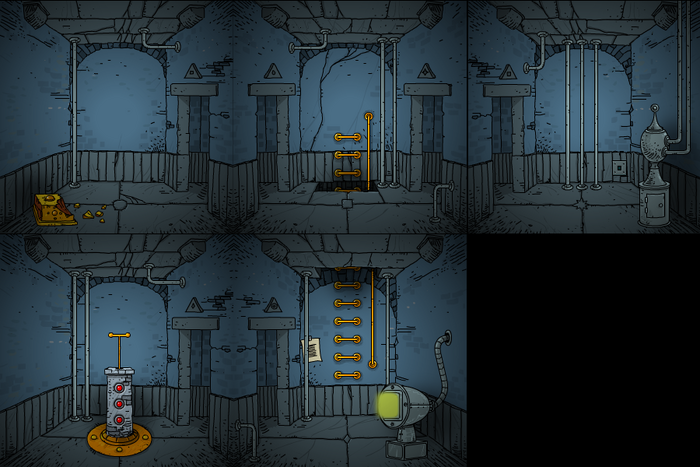 Trivia
[
]
The ambient in this location was created by L0st5ilver.
See also
[
]
Submachine Universe locations