Church

Region

Unknown

Unknown

218

V1.0 (2010-06-08)
The church is a location in Submachine Universe.
Architecture
[
]
The church consist of only three rooms, both made of orange and red tiles. The floor is made of brownish plates in a checkerboard pattern. There are grey columns supporting archways inside the church.
Somewhere up ahead are windows as the room is bathed in rays of light, pointing in two different directions.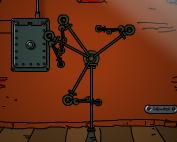 In the drop zone the portal is accompanied by a circular ornament made of red tiles in the wall. In the middle room, there is a mechanical hand and a transporter, as well as a rectangular ornament and a metal plate reading "006". The right-most room contains a large plate with text written on it and a triangle-shaped ornament.
Map
[
]

Trivia
[
]
The note on the wall is not a community-written theory; rather, it is a copy of David Stark's blog post Irenaeus on 666 and 616 (post-scripted with "researched by David Stark").
See also
[
]
Submachine Universe locations