Clockwork Corridor

Region

Unknown

Unknown

011

Theories

V2.3 (2010-09-19)
The clockwork corridor is a location in Submachine Universe.
Architecture
[
]
This area has gears and other machinery in motion in small alcoves in the walls, somewhat similar to the gears in the Clockwork room.
This area has walls and floor made of a gray material, maybe wood or metal. There is a single light near the top of each room. Each wall has an alcove with gray circles placed randomly about, giving the appearance of a bulletin board.
This location has a corridor with four rooms. The view of the middle corridor is zoomed out in such a way as to view the rather tall hallway in its entirety. The lower right room holds the portal. The upper right room has a 3D design of the portal with the coordinates 317, and under it, there is a screen with 3x3 green squares on it which reads "100 020 008," which leads to 128. The upper left room has a 3D design of the original lab portals (used by the sub-bots), and the lower left room contains Pyro Dude's "Karma theory".
Every room in the alcoves has a flickering green LED screen, where previous versions had a screen in only one room. However, the one containing the clue is the only one readable.
Map
[
]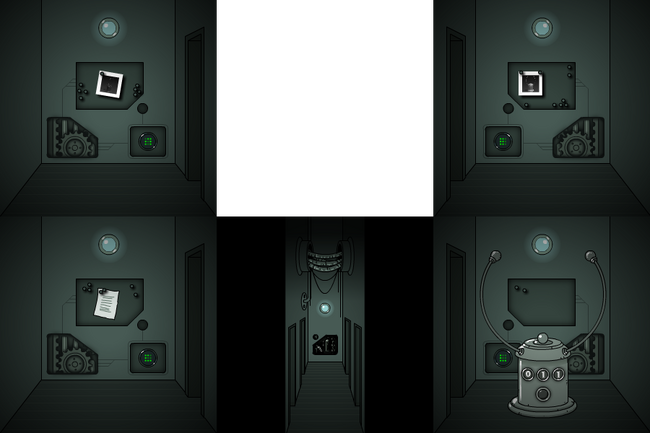 Gallery
[
]
Trivia
[
]
The area was featured in one of the Subnet batch teaser pictures posted on Facebook.
See also
[
]
Submachine Universe locations