Collector's Room

Region

Unknown

Unknown

859

V1.0 (2010-06-08)
The collector's room is an area in the Subnet with the coordinates 859.
Architecture
[
]
There are seven rooms in this area littered with memorabilia from all of the released Submachine games (up to Submachine 10). The walls and floor appear to be constructed of wooden panels, with yellow paint on the walls. The rooms are present on an upper and a lower level.
List of objects by game
[
]
The following is a list of all objects found in the room, listed by game appearance and then by room (1 to 5 = left to right, A = upper level; B = lower level)
Grandfather clock (1B)
Lamp (1B), ornate chair (1B), bookshelf (1B), wisdom gem holder (5B)
Green leaf statue (1A)
Lab coat (5B)
Root lamps (4B), rusted plates (5B)
2 ventilation fans (3B), connection pod terminal (3B)
Transmitter (cannot be picked up) (1B), energy gem box (2B), telescope (3B), power coil for forcefield (5B)
Ring post (can be turned) (1A), dock coil (cannot be picked up) (2A), water pantheon cat statue (3B), armory shells (3B), dock beamer (5B)
Karma container (1B), brass circular ornament (1B), Horus plate (2B), 3 white candles (4B), blue candle (5B)
Karma studies facility lab wallpaper (1A) (1B), assorted door blockage items (1A), transparent storage bin (1A), bookshelf (1A), cherub statue (1A), captain's ship fan (1A), karma portal stand (1A) (1B), ladder between 2A and 2B, spinning data tape (2A), sub-bot in capsule (2A), basement exit screen power generator (2B), captain's ship telephone (2B), ship speaker (2B), sub-bot (4B), explorer's helmet (5B), skull (5B), captain's ship light (5B)
Scarab plate (1B)
Sand-pouring relief (1B), Ixtab statue (2B)
Lockers (can be opened) (4B), reel-to-reel tape recorder (4B), owl picture (5B)
karma antenna (2A), table with book containing all notes (since Submachine 8) (1B), 2 chairs (2B), 3 pressure pipes (3B), 1 chair (3B), Lab Portal (can be used to visit other locations in SubVerse) (3B), 3 communication pipes (5B), security camera (5B), location panel reading "GI=XCV" (5B)
Map
[
]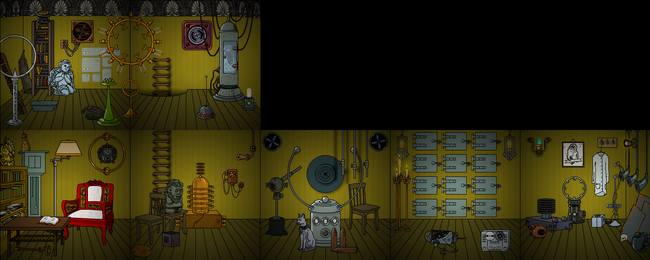 Trivia
[
]
The wisdom gem device cannot be used for any collected gems; it's only for decoration.
See also
[
]
Submachine Universe locations