Dharma Alcove

Region

Unknown

Unknown

V4.5.1 (2017-06-10)
The dharma alcove is an alternate layer of the study in Submachine Universe.
Architecture
Edit

This layer of the study has only two rooms. The overall color scheme of this area is a dull orange color. The walls are made of bricks of this color.
In the left room there is a replica of the machine seen in the study. It is sitting on a brick stand that was covered in concrete. Some of the concrete has chipped away.
There are also two lamps, in lantern-like stands in here, and a huge wooden Wheel of Dharma can be partially seen. A plaque on the wheel contains the numbers "245", cluing to the cake loop.
To the right of the layer-switch device is another similar brick stand, with a flat brass bowl like the one seen in the pyramid. Pouring karmic water into the bowl reveals a karma portal to far, with solid drippings of karma descending into the bowl. A column of unidentified symbols stands behind, and to the right a cliff ends in a sheer dropoff to the void.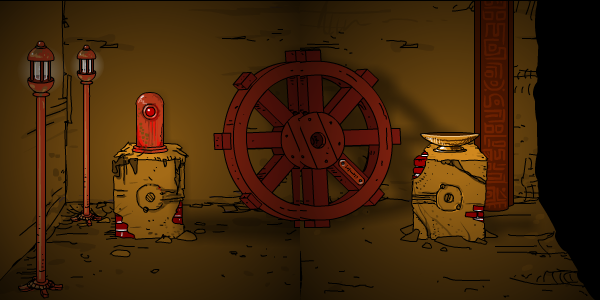 Submachine Universe locations
Community content is available under
CC-BY-SA
unless otherwise noted.