The Escher room is a location in Submachine Universe.
Architecture and cultural influences
[
]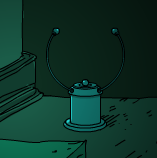 This location is very strange, as it has multiple gravitational fields. On some room ladders go 'up' but to the left or right (from our perspective), but on the other hand, locations that have 'normal' gravity are seen in the distance. All the walls and floor are turquoise; the only thing that isn't turquoise is the rope ladder. Everything is made of stone except for the ropes and the portal.
There are eight rooms in total. The drop zone has the portal and a ladder to the left and another to the right, although the location considers these as up and down.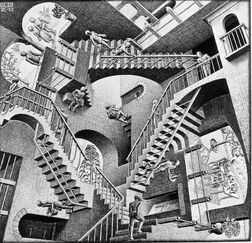 Going to the left (or down) reveals some kind of door with a metal hook. Also, there are two staircases going to our up and down. In the right room of the portal there are stairs going to the games left, and slightly up. Going down from here shows another portal (but not sideways) and a stone tablet with The Normal Submachine Theory by Marbles. It is unique to see two portals within the same location. Although there are currently multiple in the lighthouse, the other portals can't be seen from the other locations.
Going up reveals one metal plate with an unrecognizable text on it. Upon reading, the message "UNREADABLE -/QUERY -/UNRECOGNIZED LANGUAGE". Up and to the left there is one more metal panel with DLIII (553). There is also a karma portal to the lustrous ladder.
The location is inspired by the works of Maurits Cornelius Escher, a Dutch painter of all sorts of impossible pictures, and especially one of his works: Relativity. This work also has multiple gravitational fields that cross each other and only affect certain people.
Quotes
[
]
"that path I chose""411"
— The recording in the
end ruins
"First of all, the so-called submachine has normal physics."
—
Marbles
in the Normal Submachine Theory
Map
[
]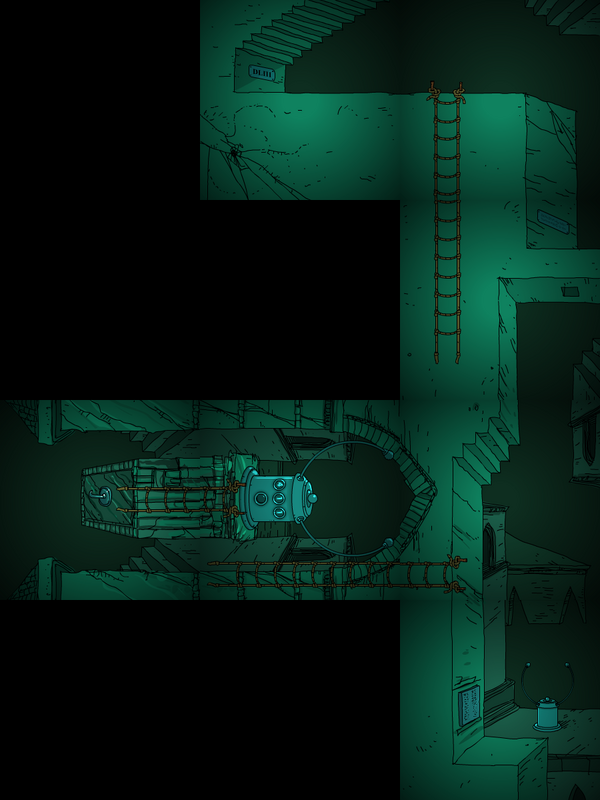 Trivia
[
]
Before the v4.5 update, the first metal plate used to contain the Roman numerals for 317. This was removed as 317 was already clued from 011.
See also
[
]
Submachine Universe locations