Gem Harvester

Region

Unknown

947

V1.0 (2010-06-08)
The gem harvester is a location in Submachine Universe.
Architecture
[
]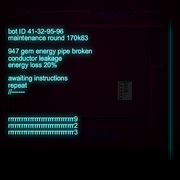 The rooms are similar to those of the basement, but in a new color scheme: shades of magenta and purple. The room on the left contains a wisdom gem in a harvesting device. On the right, there are two broken pipes. One is dripping a liquid, and the other has electricity arcing between the break. If the wisdom gem is removed, the electricity will stop flowing. A note produced by a sub-bot beneath it says the energy pipe is broken and suffering a 20% energy loss.
The note clues to "923". There is a panel beneath the harvester that says "7---7---7", which clues to 777.
Map
[
]
Trivia
[
]
See also
[
]
Submachine Universe locations