Halloween Room

Region

Unknown

Unknown

513

V4.5.3 (2017-11-06)
The Halloween room is a location in Submachine Universe.
Architecture
[
]
The location consists of ten screens organized on three levels. Each room has walls made of large stone and is fortified by wooden beams that triangle-top hallways. Each floor has a set of three candles fastened to the wall. The different levels are accessed by chainlink ladders that are fastened to the wall with large metal hooks and hoops.
The location contains objects that are relatively morbid in comparison to objects found elsewhere. These include a long bone, two skulls, an axe, a wall grate that holds back a pile of bloody organs and innards, some of which have spilled on the ground, as well as a book on the ground. There is also a collectible round stone plate (to be used in the arch wall, from the stalagmite room) as well as a pumpkin on a tall metal stand.
Gallery
[
]
Map
[
]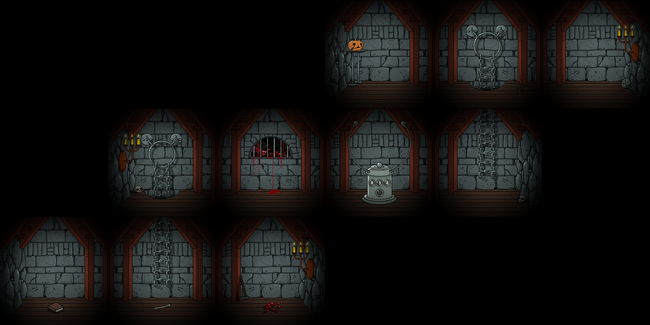 Trivia
[
]
The concept design of this location was created via a live stream on November 2, 2016.
The location is designed as a homage to Halloween.
This is the only location in the subnet to contain fruit.
See also
[
]
Submachine Universe locations