iSubmachine

Link

Release dates

iSubmachine (or iSub) is a version of Submachine 1: The Basement released by Mateusz Skutnik for the iPhone and iPod Touch. It has since been removed from the App Store; only people who originally had it are now able to play it.[1][2]
Description
The game is, for the most part, Submachine 1 with some slight puzzle changes - a twist for players who have already beaten Sub1 and the Sub1 Extended Version.
Development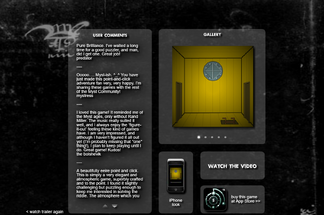 The previous game already having been finished, this version of the game contains four extra rooms housing an extra puzzle to access the valve instead of just finding it on the ground. The puzzle involves turning on a power switch (closely resembling a power source in Sub4's basement) that then activates a screen giving the player two symbols. The symbols can be put into a machine toward the bottom of the map to access the valve.
Gameplay is used by touching where a player would normally click. This ultimately made gameplay more difficult to those who hadn't played the original because there would be no hint of a cursor change when over an interactive area.
Mateusz Skutnik has vowed on multiple occasions not to bring the rest of the Submachine series to the mobile market. [citation needed] $1.99 (or €1,77 or £1.28), but then lowered the price to $0.99 (or €0,88 or £0.64). [citation needed]
Presentation messages/trailer
"What is Submachine? No one really knows. There are some facts gathered over time about the structure that lead to several theories about the nature of the Submachine. First of all, the name stands for "submerged machines" as it is believed it's placed underground. First submachine was built around 1904 - but no one remembers why. And it's not the one You are about to play. Each submachine location consists of series of puzzles enabling alleged escape from the structure. But the game is not about escaping but exploring. At one point You'll be faced with a sentence that You don't want to escape from the Submachine. And You will agree. Millions of players already found that out. You can be next."
— Original description message for iSubmachine game on App Store by Mateusz Skutnik
"submachine migrating to the iPhone. first part is sub1 with a slight change - one puzzle added. It will be available at the price of 1.99 I think...."
— A quote by the author himself before iSubmachine was released
[citation needed]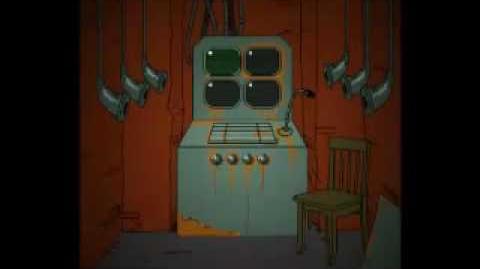 Gameplay video
See also
References