Ixtab's Chambers

Type

Region

Unknown

Coordinates

Theories

V2.6 (2012-10-??)

Ixtab's chambers are a group of sub-chambers in the 32 chambers. It was first visited in Submachine: 32 Chambers and later revisited in Submachine Universe.
History
[
]
The members of the tomb exploration team reported finding 32 chambers filled with sand.[1] At another point, a traveler visited passed through this location in order to complete the Aztec calendar.
Later yet, Murtaugh created a karma portal to the location, and some of the chambers collapsed.
Architecture
[
]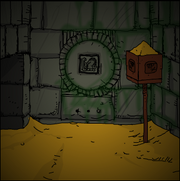 The floor is covered with a thick layer of yellow sand. The walls are built from mossy grey stone. Some wooden beams can be seen in the foreground.
In the room on the far left, there is a tunnel to an upper level with an archetypal Olmec statue of a giant head. The upper floor is inaccessible in the SubVerse for unknown reasons. Support beams hold up a small tunnel to the chamber on the right. The "Subhistory theory" by MrEMan can also be read here.
In the next room, there is a hydraulic device, which works by pushing down a wooden stick with a weight. Further to the right, a sign with Mayan script is found. This references the puzzle found in this area, which when completed opens the passage under this sign. The stairs lead to a huge chamber with ledges, accessible only during Submachine: 32 Chambers.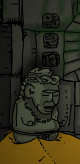 In the next three chambers, there is a puzzle. Each room has a changeable symbol on the wall; when they match with the ones mentioned in the carving, the passage to the lower chamber is opened. There is also a statue of Ixtab - the goddess of suicide - in one of the chambers. In the same chamber, a karma portal has been drawn. The two far left rooms appear to have collapsed after Submachine: 32 Chambers and have now been filled with sand.
Quotes
[
]
"All I see is sand, 32 chambers filled with sand as I remember."
— Tomb exploration team, Submachine 4: The Lab
"AIR WIND AND FIRE DIG THROUGH THE SAND"
— Carving in the chamber.
Map
[
]
References
[
]
Submachine Universe locations