Kent is the only location mentioned in the Submachine games that apparently isn't part of the Subnet.
Submachine main series lore
Edit
In the main series lore, during a camping trip to a place called Kent falls, Murtaugh lost his left arm and learned about his karma portal creation abilities. Some time later, he also became the keeper of the Kent lighthouse. According to its pamphlet, the lighthouse was erected in 1857 by Sir Henry o'Toole on the ruins of a medieval prison dungeon and still saved its original structure even if wars have been fought over lands of Kent.
Real life
Edit
Kent Falls, Connecticut, USA
Edit
It is hypothesized by some that the "Kent Falls" discussed in the lore refers to a destination in the United States.
The most popular "Kent Falls" in the United States is located in a park in Kent, Connecticut. The "Kent Falls State Park" offers a scenic view of 17 different waterfalls. They are located at 41°46′30″N, 73°24′36″W and their official website can be found here.
Google maps also shows 2 other locations named "Kent Falls", but they are not notable tourist destinations:
Kent Falls, Morrisonville, Clinton, NY 12962, US
Kent Falls, Mill Valley, Marin, CA 94941, USFramsgate
A list of old Connecticut lighthouses can be found here (a couple of them were also erected not far from 1857).
Major factors that disprove this destination being the target of the lore include the two facts that this destination is not on a coastline, and no wars were fought at this destination. However, the sign for this "Kent Falls State Park" in location 232 is clearly from this destination.
Kent Lighthouses, England
Edit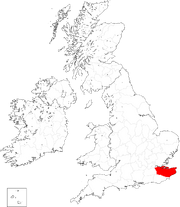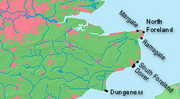 Another likely hypothesis could be that "Kent Falls" refers to the English County of Kent, located south-east of London.
The English County of Kent county suffered some period of wars; in particular during World War II, much of the Battle of Britain was fought in the skies over the county. Between June 1944 and March 1945, over 10,000 V1 flying bombs, known as "Doodlebugs", were fired on London from bases in Northern France. Many were destroyed by aircraft, anti-aircraft guns, and barrage balloons, yet both London and Kent were hit by around 2,500 of these bombs.
There are various famous lighthouses located in that area, and the most probable for the lore could be:
one in Ramsgate, since in the same town there is also a waterfall (you can see an old photo here)
the Southern Breakwater in Dover (see a photo here), since it's very similar to the one showed in the game;
South Foreland Lighthouse, in St. Margaret Bay, since it was used by Guglielmo Marconi for his radio experiments (and it could explain the radio equipment in Lighthouse)
A table with most of English Kent lighthouses follows:
Name
Location
Photo
Active through:
Height
Coordinates
South Foreland (High Light)
St. Margaret Bay
1
1843-1988
21m
51.140462N, 1.371137E
North Foreland
Broadstairs
1
1693-
26m
51.374888N, 1.445131E
Dover (Admirality Pier)
1
1908-
20m
51.111366N ,1.327632E
Dover (Prince of Wales Pier)
1
1902-
14m
51.114066N, 1.322903E
Dover (Southern Breakwater)
1
1909-
21m
51.113107N, 1.329952E
Dover (Knuckle Light)
1
1909-
16m
51.117361N, 1.341426E
Dungeness (Old Lighthouse, High Light Tower)
1
1904-1961
37m
50.913715N, 0.969645E
Dungeness (New Lighthouse)
1
1961-
43m
50.913499N, 0.975895E
Ramsgate
1
1842-
8m
51.327675N, 1.421458E
Margate
1
1955-?
18m
51.390811N, 1.378208E
Community content is available under
CC-BY-SA
unless otherwise noted.