Lighthouse annex

Region

Unknown

Theories

V4.5 (2017-02-09)
The lighthouse annex is a location in Submachine Universe.
Architecture
[
]
This location contains metal walls similar to those of the metal section and the lighthouse tower. The floor is covered in red resin.
In the center of the location is a karma portal stand housing the portal which is officially classed as a "second or third-generation stabiliser". A small code screen provides information on who designed the stand and its official title.
To the right of the karma portal stand is a large circular device made of yellow metal with four arms that extend into the surrounding walls and the resin. A code screen on the front shows "light_theory.txt" by Jatsko.
Gallery
[
]
Map
[
]

Trivia
[
]
The lighthouse annex's karma portal stand design and its associated information references a sculpture by Robert L. Wood. He is a professor at SUNY Buffalo State College in New York, and his sculpture "Crossing" (shown below) is installed at the State University College at Geneseo, where the user Jatsko attended college.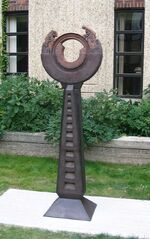 See also
[
]
Submachine Universe locations