Lighthouse Digouts

Region

Unknown

V2.2 (2010-06-19)
The lighthouse digouts is a location in the Submachine Universe first visited in Submachine 4.
Architecture
[
]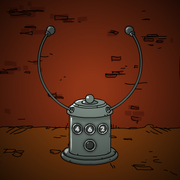 The architecture of the room resembles the lighthouse dungeon found at the beginning of Submachine 2: The Lighthouse. At the rightmost room, there is a pipe with a turbine. During the events of Submachine 4, the player retrieves the turbine by stopping the water flow and breaking open the lock. The pipe continues to the left before turning down to the ground. In the center, there is the drop zone with the portal of the room. At the left, there is a pedestal with 4 cubes on it. In Submachine 4, you have to ring all 4 bells in the game to get the secret inside it. A note can be found in this room too. At the leftmost room, the location ends in the void in which some bricks, assumed to be part of the ancient section, can be seen floating.
In Submachine Universe, the room can be revisited. The mechanism controlling the water flow is now broken, causing the room to be flooded. The pedestal with cubes is broken as well. A plate with the inscription "UNREADABLE -/QUERRY /-UNRECOGNIZED LANGUAGE" (formerly, the clue "THIS + 89") can be found below the pipe, as well as a clue reading "104" in the grey bricks in the void. In the room at the left of the portal, there is a karma portal that leads to the light bridge.
Map
[
]
See also
[
]
Submachine Universe locations