The Looping Traps

Region

Unknown

Unknown

690

Theories

V2.2 (2010-06-19)
The looping traps is a location first introduced in Submachine 4: The Lab. It is later revisited in Submachine Universe.
History
[
]
Sometime before the events of Submachine 4, Murtaugh visited this area and took the orb out of its container. He then passed the orb to the basement exploration team to be broken. They failed to break the orb, and Murtaugh returned it to its original container.
Later an unknown explorer visited this place and recalled its resemblance to the Loop. He wondered what to do, and left a note.
Later, the player visited this area and picked up the note. The player also accessed by solving the puzzle in the area.
Later yet, someone taped a theory by Zephirius Jixx to the wall. A number display with the number 6 on it also appeared.
Architecture
[
]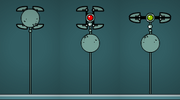 All of the rooms in this area are of a blue color. There are nine chambers forming a 3 by 3 grid with the drop zone in the middle.
In the upper left room, there is a containing unit for the orb that can be opened by solving the puzzle found in the area.
Down from here, there is a machine that displays numbers. These numbers work as coordinates for the light boxes found in the other rooms. By pressing the coordinate machine's buttons the machine, the light box in the corresponding coordinate will open. Pressing the button inside each light box opens the orb container.
In the SubVerse, the orb container and all the devices are broken or deactivated, and the orb is missing.
Quotes
[
]
"But there is no compass here now. What to do?..."
— Unknown
Map
[
]
Gallery
[
]
See also
[
]
Submachine Universe locations