Mountain

Region

Unknown

Unknown

V3.0 (2013-01-26)
The mountain is a location in Submachine Universe.
History
[
]
One of the predecessors who was sent to the Edge taped his suicide note onto the wall of this location and committed suicide by jumping into the void.
Architecture
[
]
The area is a steep cliff of a tall featureless, grey mountain. On the right, a karma portal has been drawn in the void. In the center, there is a suicide note taped onto the mountain wall as well as a metal long-range communications device that is activated by a wisdom gem energy receiver. When activated it can receive signals from Lab facility 32 m to open the sewer grill on the left. The grill is surrounded by lumps of gold ore protruding from the mountainside, and the grill leads to a small alcove with stone walls and a wooden floor used as a stakeout. The room contains a floor lamp, a mattress, books, wine, and a stone dragon tongue.
Quotes
[
]
"When I look around I see submachine. When I look down I see nothing. I want to be there."
— A
note
left by a
predecessor
Map
[
]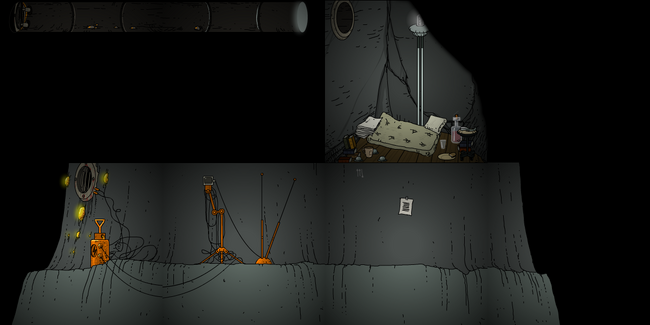 See also
[
]
Submachine Universe locations