The Mover Room

Region

Unknown

Unknown

317

V1.0 (2010-06-08)
The mover room is a location in the Submachine Universe.
Architecture
Edit
The drop zone's portal sits atop a dark gray, riveted metal structure. From a unique perspective, the railings from the ladder leading downward actually overlap the portal, implying it is in the foreground between the viewer and the portal. Yellow extendable bridges connect the mover from Submachine 6 to the left, and the mover from Submachine 5 to the right.
The entire area is under surveillance by floating cameras that are dark gray and metallic in appearance. All five of the cameras will react negatively to the cursor when moused over; the usually-green LEDs momentarily turning red as they instantly dart away, taking pictures as they make the sound of a camera shutter opening.
Moving down the ladder below the drop zone's portal, a note is taped to the wall that says:
class ONE submachine mover

investigated by Daniel Chavez
To the right of the ladder, a short strip of photography film is taped to the wall. The 6th photo clues to
806
, and the 8th photo clues to
461
.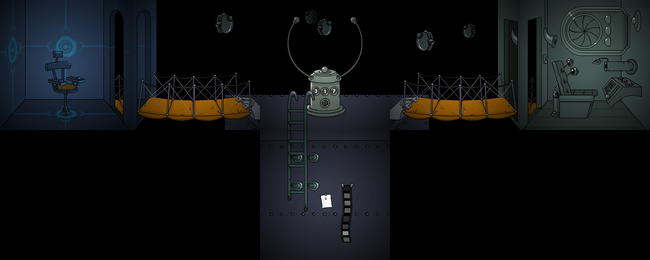 Submachine Universe locations
Community content is available under
CC-BY-SA
unless otherwise noted.