The Mover Room

Region

Unknown

Unknown

317

V1.0 (2010-06-08)
The mover room is a location in the Submachine Universe. Its coordinates are 317, and it's a metal cliff with 2 movers attached. It is clued by 011, and It clues to 806 and 461.
Architecture
Edit
The upper level of the location has a metal "cliff" where the movers from Submachine 5 and Submachine 6 are displayed. It has six rooms. The starting room holds the portal and two floating security cameras. Both to the right and left are two extendable bridges and more floating cameras (two to the right, one to the left). In the rightmost room is the mover seen in Submachine 5 and the leftmost room has the blue mover of Submachine 6.
All of the cameras will evade the mouse when moused over and take pictures, which are signaled by tiny red and green lights on the cameras and an accompanied snapshot sound.
The room under the portal room has a note that says:
class ONE submachine mover

investigated by Daniel Chavez
To the right of the ladder is a film reel. The 6th photo clues to 806, and the 8th photo clues to 461.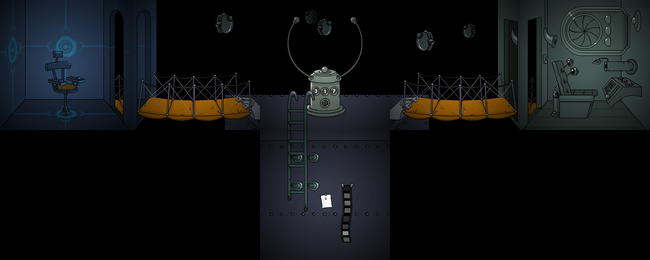 Submachine Universe locations