Murtaugh's Communication Room

Region

Unknown

Unknown

Theories

V2.3 (2010-09-19)
Murtaugh's Communication Room is a location in Submachine Universe.
History
[
]
This location seems to have acted as Murtaugh's personal headquarters, which he used as a base for his research. He seems to have already used it in 1906.
At some point, Murtaugh sent messages to computers in the lab network and also to the Edge from here. The player saw some of these messages.
In a Facebook post, the developer implied that the computer is no longer actively used for communication, which probably means that the area has been abandoned by Murtaugh.
Architecture
[
]
This area is completely wooden. At the drop zone, a ladder leads up to a room with voice tubes tightly clustered together around a single stool. On the wall is the Mur AI Theory by Alamos. In the room to the left is a pile of wooden boards, a copper plate, a very rusty cipher plate box, and a device resembling an electric lamp of some kind. Above that room, there's another one, which contains a karmic antenna, a barrel, a stool, and a puzzle. When the puzzle is solved (using the switches at far, fur, and swt), it moves upwards and reveals a karma portal leading to jvp.
Finally, to the right of the room with the voice tubes, there is a single microphone and what seems to be an antique computer with a chair attached to it and a prompt that says "(@mur)_" on its screen.
This would highly indicate that this room would be where Murtaugh was communicating with people, including explorers, all this time throughout the series, but left before we've seen it ourselves. On the floor is a familiar "Note to myself", but one day off from the original one from the Lighthouse. It clues to 291.
Development
[
]
"The toilet room"
[
]
Mateusz Skutnik posted a teaser of this area on Facebook on September 28th, 2010. The picture contained the computer room. In Facebook, the computer was joked to "double function as a toilet" by Alex Jankowski. The author and the user both considered it a joke and left it at that.
This joke, however, was transferred to Pastel Forum, where it afforded the room the nickname; "Toilet Room". Mateusz warned them, and swore "to Liz", that he "will kill without hesitation" if he sees anyone calling the room by the name "toilet room".
This didn't stop the community, and the author became borderly mad.
Quotes
[
]
"@(mur)_"
— The computer
Gallery
[
]
Map
[
]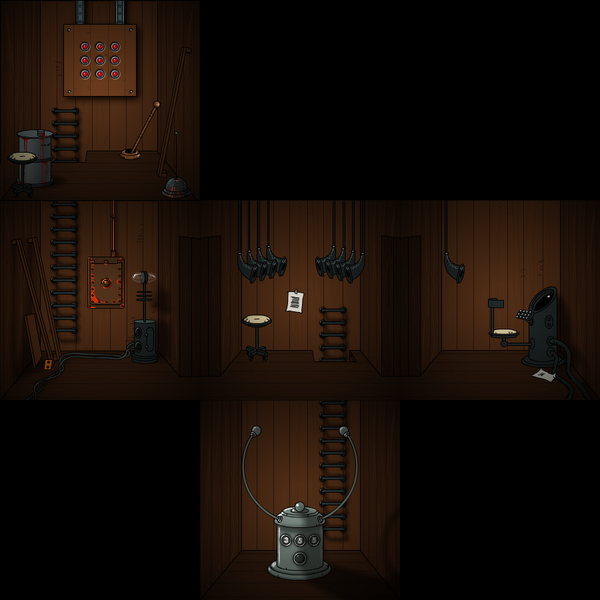 Trivia
[
]
There is a transporter in this area. Clicking it does nothing.
See also
[
]
Submachine Universe locations