The Observation Center

Region

Unknown

Unknown

541

V1.0 (2010-06-08)
The observation center is a location in Submachine Universe.
Architecture
[
]
The room has a wooden plank floor and stone walls. It appears to be receiving mysterious radio waves, consisting of a noise that sounds like a jamming signal.
The area consists of two screens. One has the portal, a chair painted a murky green color and a metal plate with 218 written on it. There also appears to be a door or indentation of some sort behind the portal. To the right, there are three more chairs of the same color and the computer, similar to the one in the observation room in the Root base.
In the room with the computer, there are also three Root-style pipes, presumably used for communication.
Computer
[
]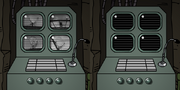 The computer has four buttons that can be pressed to enable and disable specific monitors, and a four by three pad of white buttons. Four black-and-white pictures of radio dishes can be seen on the computer. The bottom left picture shows the number 757 scratched in a metal bar.
Map
[
]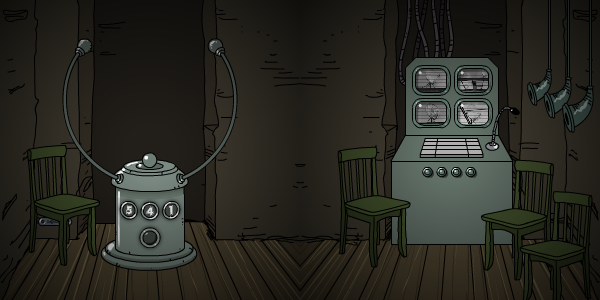 Trivia
[
]
One of the satellite disks reads 'TELEWIZJA KABLOWA' on it, which is Polish for "cable television".

Altogether there are four different disks in the pictures, but there are close-ups of three of the disks.
There is a bird in one of the pictures, the only image of a real animal ever seen in the Subnet.

In his blog, Mateusz Skutnik posted pictures of the real-life location shown in the photos. He revealed that it recently had a renovation, which removed most of the submachine-like debris. He also revealed its location - in Gdansk - via Google Maps.
See also
[
]
Submachine Universe locations