The orange lever room is a location in Submachine Universe.
Architecture
[
]
This location is composed of six rooms. The slightly cracked walls are made of yellow plaster and yellow bricks. The floor consists of large reddish brown stone slabs. The ceiling is made of wood planks. Each room is lit by a yellow lamp mounted on the ceiling. The rooms are connected by brick arches.
The leftmost room has a karma portal on a wall and a radio receiver with two antennas, one of which is bent by the portal. The middle room has an open window with a karmic vessel standing on its sill. This room allows the player to go in all directions: there is a manhole on the floor, a few steps leading to the right, and a ladder going upstairs.
The manhole leads to a well, which quickly fades in the dark. The room on the right is almost full of red resin, with a theory by Azareus taped to a wall.
There are two rooms upstairs. The left one has a mechanism consisting of a stone stand with a lever and three red lights arranged vertically. Two similar devices are found in the blue lever room and the purple lever room. The room on the right contains a barrel, a small code plate that says "LOC.AF.SPEC: YOMBAI", and a root transporter on its wall.
Gallery
[
]
Map
[
]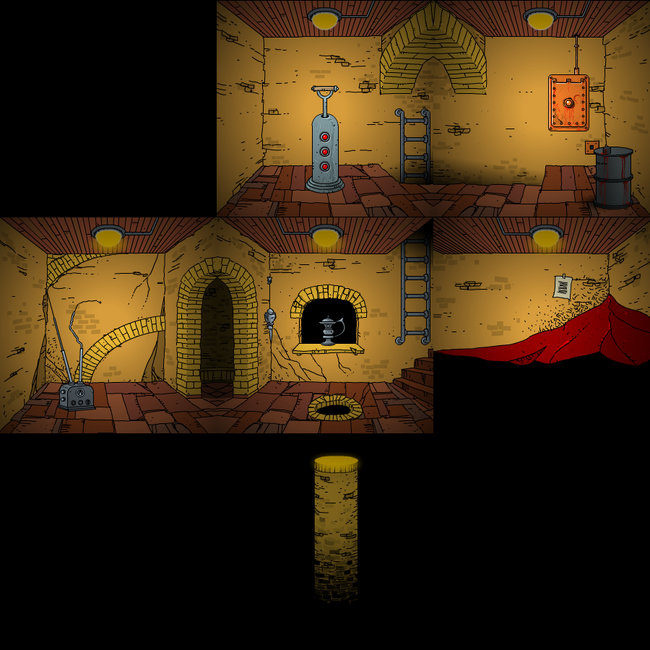 Trivia
[
]
The location's design was expanded in one of Mateusz Skutnik's live streams from a single-room artwork produced in an earlier live stream.
The ambient in this location was created by Yombai.
See also
[
]
Submachine Universe locations