Photographer's Quarters

Region

Unknown

Unknown

V2.4 (2011-04-08)
The photographer's quarters is a location in Submachine Universe.
Architecture
[
]
The area has four rooms, made of stone walls that are colored a murky green. The ground is a gray-blue stone outcropping. The walls are broken into jagged triangles. The left screen contains a karma portal to the small island and a photo viewer. It shows a photo taken by Carolita Villada, a Colombian Submachine fan. The photo displays wires and a lamp on a concrete wall.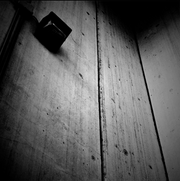 The left middle room contains a karma portal to the ziggurat as well as markings of circles and triangles on the wall. There is also a small recess in the wall.

In the right middle room, the floor is sheared off, but there is enough room for a stone salmon-colored stand to be positioned toward the edge. The stand itself contains symbols and so does the wall directly behind it. A sigil with matching symbols can be placed here to activate a karma bridge leading to the rightmost screen, where a karma portal connects to the Lavender room.
Map
[
]
See also
[
]
Submachine Universe locations