The Radio Lab is a location in Submachine Universe.
Architecture
[
]
This location appears to have been a highly technical communication center in the 1940s or 1950s. Both the inside and outside of the facility have been painted shades of slate green. One of this location's more memorable features is the decades-old rust seen on the exterior surfaces of the rooftop, entry hatch, portal, and communications dish.
On the exterior wall to the left, there are scribbled designs similar to the ones found in the Laser room. The communications dish has wires coming out of it leading downward.  
The interior room appears to be in pristine condition. It is filled with electronics and other radio-related equipment, some of which have lit LED power indicators and needle-meter displays. An oscilloscope sits atop one of the stacks of equipment. There is a karma antenna on the floor and small glass dome lights are lit across the ceiling. Located between the left porthole and the ladder is a gray metal key hanging from a hook on the wall. A familiar round stool on casters, seen in numerous other locations in the subnet, is found on the right-hand side of the room. Directly next to this, hanging from the wall is "The Number Station Theory", by Raxas.  
The view through the left-hand porthole is of two huge clusters of subnet locations that are suspended in the void. In the immediate foreground of the same view, two of the cables that are running down from the rooftop communication dish are seen. The view through the right-hand porthole shows mainly the bleak void, yet with a single subnet location's room suspended in it. The glass of both the left and right portholes have dotted X, Y, Z axis lines of reference etched on them, which are similar to the ones seen through the mover's viewing scope in Sub5 and the viewing scope of the main, internal observation/control center of the Captain's Ship in Sub10.  
Map
[
]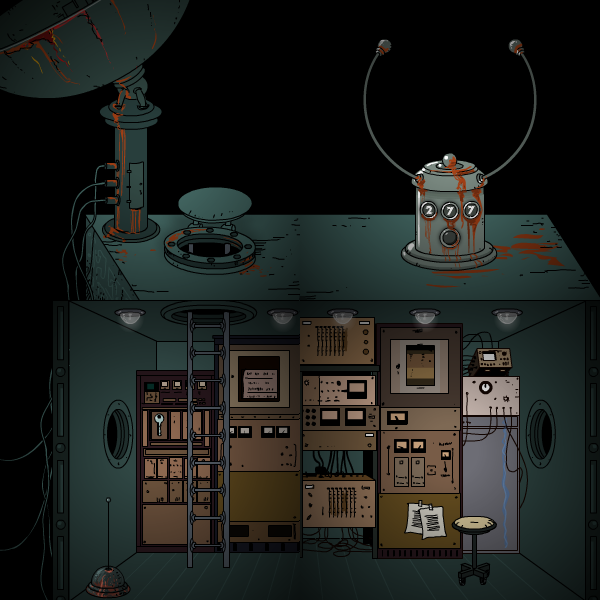 See also
[
]
Submachine Universe locations