Research base

Region

Unknown

V1.0 (2010-06-08)
The research base is a location featured in Submachine 4: The Lab and also appears in Submachine 10: The Exit and Submachine Universe.
This location was used as a sort of base for the missions of the exploration teams when Murtaugh was initially using scientists and explorers to explore the Outer Rim.
Architecture
Edit
The basic architecture for this area includes a dark teal floor and white walls.
This location is directly accessible from the attic in Sub4. The location itself is a series of abandoned rooms. Tables, chairs, and papers are scattered about the area. There is a computer that the player uses to "speak" to Murtaugh. The computer's IP address (which is shown when the player presses the button while talking to Mur) is (@lab):root.ping//144.235.182.100, and this IP is registered to somewhere in Columbus, Ohio, and this could suggest something about the lab's location.
The bottom hallway features a small bathroom with soap and running water. A ladder leads to a table complete with a gas-lit Bunsen burner and vials. A table with scattered newspapers stands next to a locked door, which can be unlocked to reveal a portal. The portal is blocked by a security gate that must be bypassed. The portal allows the player to visit locations like the ancient section and the ship.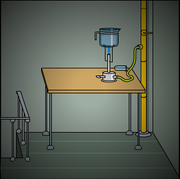 In Submachine 10, rather than entering the lab from the attic, a different section is entered through the metal plate on the rooftop. Here, the basic architecture is the same. A sub-bot capsule and a dead sub-bot are found here, as well as a couple of chairs and a karma stabiliser charging station. It is protected by a security system that requires a special type of chip to allow access.
In the SubVerse, the stairway from the attic is completely flooded with dirt and blocks off the way up and to the left. The Bunsen burner area is still active, and a karma portal has torn through the wall in that alcove, leading to jul. A karma antenna can also be found in this area. A wisdom gem can be inserted into an energy receiver in the area below, cluing to 613.
The gate to the right of the portal can also be raised in the SubVerse by means of lifting the bell cube in the area. The symbol on the bell cube can be moused-over to reveal "open". Additionally, the bell's sound and the cube's animation are also different. The player then can walk down a long hallway before opening a door and a hatch to access the snow room.
Submachine Universe locations