The resin room is a location in Submachine Universe.
History
[
]
The area originally contained a machine of some sort. It was taken over by resin, which hardened in a long period of time. Centuries after this someone added a ladder to the hardened surface.[1][2]
Architecture
[
]
This location contains two basic parts, organized on the left and the right.
The left part is a series of large vertical metal pipes with attached horizontal metal catwalks. The pipes have been overrun by a sort of dark yellow resin that contains what appears to be nuggets of gold. The access portal digs straight into the resin. One of the pipes, containing the "Einstein the Cat theory" by OnyxIonVortex taped onto it, has been torn and the player can climb into it. Inside the pipe is clogged with resin with a lever handle sticking out of the surface. Another pipe contains the "Kaluza-Klein Layer theory" by the same author. A large wooden ladder helps the player to traverse the area.
The right part can be reached by climbing across the resin to a gray wall containing various handles, wires, cables, and pipes that resemble that of the edge and defense systems. A slot for a lever handle when placed allows the player to access a tunnel made of bare metal grating that connects to a spherical metal cage with a karma portal leading to the aeolic corridor. This interior structure resembles the circular pods seen in the S.H.I.V.A. access point.
Quote
[
]
"whoever told you it was sand was lying"
— Mateusz Skutnik
Gallery
[
]
Map
[
]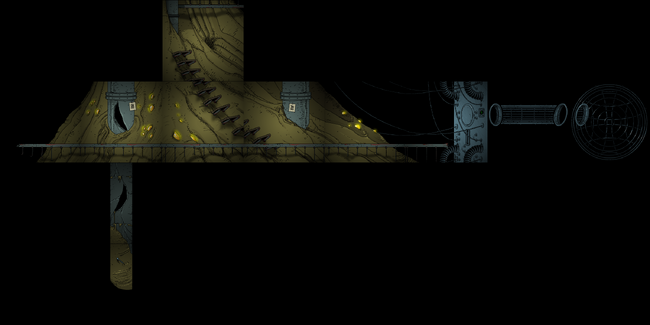 Trivia
[
]
Resin is a substance produced by (mainly) coniferous trees when they get damaged. It can also mean the artificial variety.
There are 12 ladder steps in this area.
This room disappeared briefly for a short time in mid-2012 due to a bug affecting rooms with karma portals.
See also
[
]
References
[
]
Submachine Universe locations