The Road Room

Region

Unknown

Unknown

076

Theories

V1.0 (2010-06-08)
The road room is a location in Submachine Universe.
Architecture
[
]
There are 5 rooms, all with gold walls and tiled floors. In the first room, there is a ladder that goes down, and two holes in the walls, between which a gold-colored portal resides.
In the room below, the ladder goes down farther and there is a picture of an endless road next to it. In the room to the left, there is an unrusted cipher plate reader, a panel with the number 304 underneath, a chair and the "Safe Haven Theory" in four papers in the wall.
In the rightmost room, there is a film projector that doesn't work and the "Human Target Theory" in a single paper.
In the bottommost room there is the "Submurchine Theory" and a chest of drawers (the drawers are openable). On top of it stands a slide projector plugged into an outlet, like the one from Submachine: Future Loop Foundation. This projector sends a blue light beam to the hole in the wall. This light somehow loops around to the top room with the portal, where it crosses paths but bends around the main body of the portal.
In the end of all theories there are two numbers: 1>8; 2>7; 3>5, which clue to room 875. All the theories in this room were written by Death Road.
Map
[
]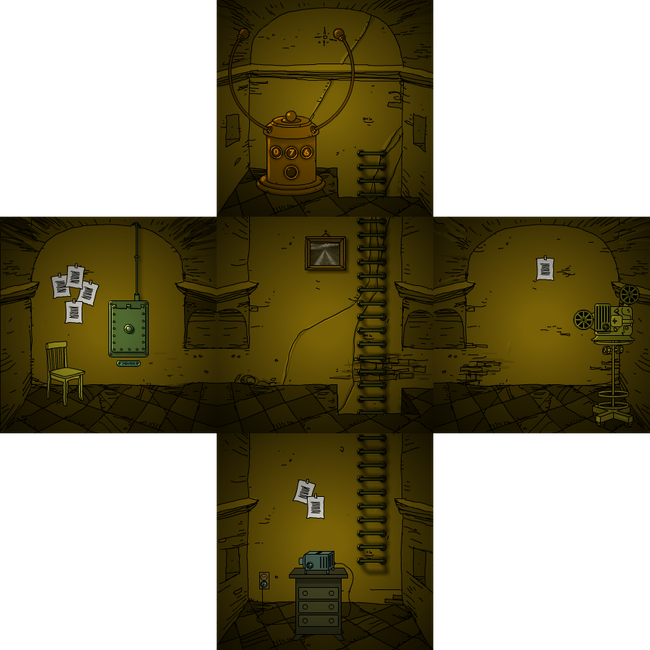 Gallery
[
]
Trivia
[
]
Contrary to popular opinion, which stated that the chair in the room is yellow, the developer has stated that it is green.
There is a transporter in this area. Clicking it does nothing.
See also
[
]
Submachine Universe locations