Snow Room

Region

Unknown

Unknown

V2.4 (2012-12-24)
The snow room is a location in Submachine Universe.
Architecture
[
]
This location features brown walls and small barred windows. Copper pipes adorn the walls, and some carry lamps, one of which is bent. A karma portal to the research base has destroyed some of the bars in the windows.
The floor is covered in snow, yet a fluorescent plant still manages to grow in the left screen. The plant resembles a small spruce tree. A valve is half-buried in the snow below the tree.
Map
[
]
Trivia
[
]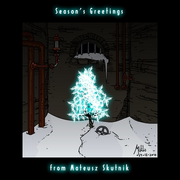 The first screenshot of this location was used as a Happy Holidays message from Mateusz Skutnik posted on his Facebook page on December 2010. It did not make an appearance in any game until two years later.
Its inclusion in Submachine Universe was officially announced on December 24, 2012, with the message of "find chr"[1].
See also
[
]
References
[
]
Submachine Universe locations