The spike room is a location in Submachine Universe.
Architecture
[
]
The location seems to be placed on a large pillar that is attached to an unseen beam or platform, curved on its lower part. The pillar is cracked and distorted from the nearby karma portal. The pillar can be traversed via a ladder, composed of metallic bars encrusted on the surface of the pillar. There are also some holes in each side of the structure which appear to be part of a rudimentary system of ventilation, which might imply that the pillar is hollow.
The pillar is between two sets of protrusions, made of ivory or other similar material, in the form of claws or teeth, protruding at regular intervals from two large vertical walls where a strange sun-like symbol is repeated. On the opposite side of the portal is the theory "Submachine Earth Theory", by RedX36.
Map
[
]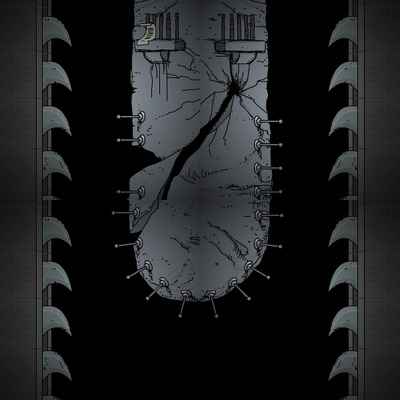 Trivia
[
]
The room was discovered by Vurn, a Pastel Forum user.
It is unknown what the coordinates wrt mean.
The general look of the area might resemble a tongue inside of the mouth of some sort of mechanical creature.
It is unknown how the player manages to get to the other side of the room. It could be that there is a gravitational shift (Like in the Escher room), or that the player is just skillful with climbing curved ladders.
It is possible that this location is physically behind the watchtower, as a very similar structure can be seen in the background in that location. There are differences, however, such as the spikes being displaced.
See also
[
]
Submachine Universe locations