Stabilizer Bay

Region

Unknown

Unknown

IOI (Sub10)
The stabilizer bay is a location in Submachine 10: The Exit.
Architecture
[
]
The main color scheme of the area is lavender and purple. The binary portal is made of metal and has lavender and purple stripes. The main body is semi-circular with light lavender panels sticking out at haphazard angles. Two thin posts support the upper two orbs necessary for the portal to function.
The portal is located on a lower level with purple tiles covering the floor and a purple fence. To the left is a statue of a bull skull garnered with stone grapes, two of which are missing. If all stone grapes are placed above the bull skull, a beam of karma will shoot out the top and connect to a similar statue in the karma studies facility. To the left of the statue are more light purple panels which are akin to vertical banners, as well as a deactivated sub-bot.
A higher level, accessed with a ladder that is driven by a series of ladder pistons, is positioned high up to the right and contains a karma portal stand leading to the dock.
A section of rock positioned above the binary portal and to the left of the KPS allows access to a large purple sphere that contains memory drives for S.H.I.V.A..
Map
[
]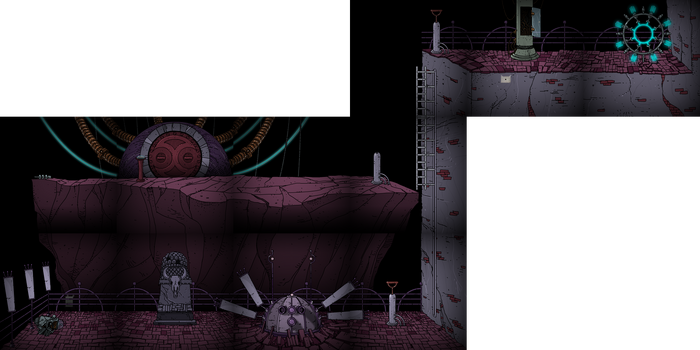 See also
[
]