The Statue

Region

Unknown

V2.2 (2010-06-19)
The statue is an object and location in Submachine 4: The Lab and Submachine Universe.
Architecture
[
]
The statue sits on top of a gray stone block that is the same as the stone blocks seen in the ancient section.
The design is of a large golden man sitting on a stone throne. The man wears a tall conical hat, almost like a lengthened fez. The man is clothed in a simple one-piece garment.
The man's right arm holds a sceptre in front of him, and the left arm and sceptre are missing. The statue is a representation of Murtaugh himself, since he lost his own left arm on a trip to a waterfall. The statue needs its left arm restored in order for it to be activated.[1]
Once the left arm and second scepter have been replaced, blue karmic energy flows from the right to the left arm. The statue then teleports the player to Dorm 38C.
The statue signifies the completion of the tests put in place by Murtaugh for the entirety of Submachine 4.
In the SubVerse, both arms are restored and a karma portal to swt lies in between the two sceptres.
Map
[
]
Trivia
[
]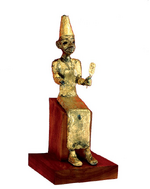 References
[
]
See also
[
]
Submachine Universe locations