The Sub-bot Research Room

Region

Unknown

Unknown

V1.0 (2010-06-08)
The sub-bot research room is a location in Submachine Universe.
Architecture
[
]
The architecture of the room resembles that of the ship. In the center sits the portal with four pipes coming down from the ceiling. To the right, there are two more pipes (one of which has a panel that says "THIS+FI", which clues to 442), a gas cylinder and four drawings. To the left there are two more pipes and two more gas cylinders.
The room is covered in wires that connect a wisdom gem energy receiver on the right to a wired valve on the left. Activating the receiver allows the player to turn the valve and open one of the ceiling pipes, which provides ladder access to a top room with a karma portal leading to fur.
The portal screen also contains a panel with a description of the drawings:
"Sub-bot reverse engineering early sketches.
The unit consists of:
- leg/foot relay;
- hand/arm relay;
- head unit.
Designed by Sir William Taylor;
research team 06-f;
quadrant 1-q-32/8."
This room clues to 442.
Map
[
]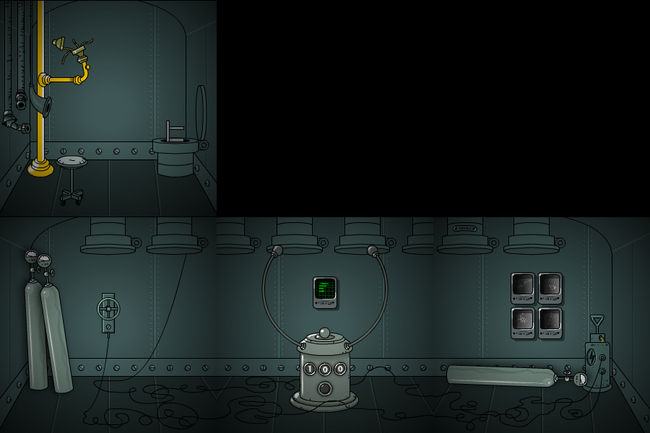 Gallery
[
]
See also
[
]
Submachine Universe locations