Submachine: 32 Chambers

Link

Release date

August 2nd 2010
"As I remember, there was a note found in Submachine 4 mentioning 32 chambers filled with sand. Well, here they are in another short off-main-storyline installment of the Submachine series."
—
Mateusz Skutnik
about the game.
Submachine: 32 Chambers (or Sub32) is the third side game of the Submachine series.
Plot
This game recounts the exploration of the 32 chambers by an unidentified explorer.
At the start of the game, the player finds him/herself in front of a rusting and broken portal which cannot be used, as it breaks when the player enters coordinates and activates it. The player must progress through 32 rooms of sand, solving various puzzles with the help of items they find throughout the tunnels.
The final room is a large and incomplete Mesoamerican calendar. The player completes it with several items they have found in the tunnels. After the calendar is fixed, it disappears into an abyss, and two dates appear: "21/12/2012" changing to "21/12/7137". According to Skutnik, the player has stopped the predicted doomsdays on those dates.
List of locations
There is only one location in this game, namely: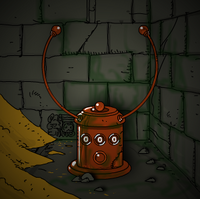 This area consists of thirty-two chambers half-buried in sand, made in the style of the ancient Central American cultures, showing illustrations and glyphs carved in stone, among other things. From the portal in the beginning, and the note from Submachine 4, it follows that the area must have three-number coordinates, but they are currently unknown (though in the SubVerse we can see two sublocations of this zone, they are karma portal locations).
Quotes
"I believe that back in Submachine 4 there was a mention of 32 chambers filled with sand... Well, here they are. Explore."
— The description in Casual Gameplay Design Competition.
Development
This game is the second Submachine game to be featured in the Jay is Games Casual Gameplay Design Competition, the first one being Submachine: Ancient Adventure. It was released on August 2nd, 2010. According to Mateusz Skutnik, he first came up with the idea when he saw the theme of the Jay is Games Competition. The theme for the competition is "sandbox", and he thought about the 32 chambers mentioned in Submachine 4: The Lab, and in his words "it just clicked".
The game eventually won all three categories in the contest and averaged a rating of 4.8/5 from 900 votes.
Trivia
See also