Jurassic World: Dominion Dominates Fandom Wikis - The Loop
Play Sound
This page refers to the buy-only HD version of Submachine: Future Loop Foundation. To visit the original Submachine: Future Loop Foundation page, go here.
Submachine: FLF

Link

Release date

v1 (HD) December 15th 2014

[1]

Submachine: FLF (also known as FLFHD) is an HD remake of Submachine: Future Loop Foundation. It was released on December 15, 2014[2]. This game was originally called a "Redux HD version" of Submachine: Future Loop Foundation[3]. For the sake of clarity, this game is often referred to as FLFHD while the original game is known as SubFLF.
Plot
This game takes place in the fifth-layer version of Submachine: Future Loop Foundation, as stated by Mateusz Skutnik. It is unknown whether this game takes place before, after, or during SubFLF. The plot to FLFHD is very similar to that of SubFLF. However, any references to Future Loop Foundation (the band originally promoted in the first game) are removed and the game contains more references to the Submachine Universe. The unidentified player (not necessarily the main player) wakes up in the ward similarly to SubFLF and travels to the memory bank. It is noted that the HD versions of these locations are different from the versions found in SubFLF.
Along the way the player notices pictures and objects that evokes past memories that belong to an unspecified person before solving the final puzzle.
In addition to slight lighting and shadow improvements, more rooms, items, and puzzles have been added to the locations.
List of locations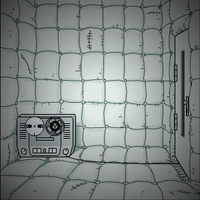 This area consists of an isolation cell as those used to lock some patients with severe mental illness. It is fully padded. Outside are abandoned-looking rooms and an area which suggests that the game is set in a part of a prison. There is a projector that can be used to arrive at the memory bank.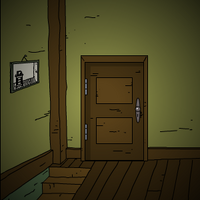 This area is where the player comes after viewing the slide projector, and is filled with real images of family members. By solving various puzzles, the player can finally see a movie and apparently able to recover their memory.
Development
On December 8, 2014, Mateusz posted a Facebook update explaining that he was almost done with the "redux version of Submachine: FLF"[4], calling it "basically a new game". He responded to the following post confirming that the game would include real-life photos like the original SubFLF.
On December 13, Skutnik stated in another Facebook post that the game would be released on Monday, December 15 at around 8 am CET[5].
The game was released on-schedule and is available for $1.00 through Skutnik's online store.
Production gallery
Trivia
While Submachine: Future Loop Foundation had rounded corners on its screens, this game reverts back to the square corners found in every other Submachine game.
On the patient number plate, every 1 is written with an I. (see Fonts used in Submachine series)
See also
References