Submachine 5: The Root

Link

Release date

January 30th 2008

Submachine 5: The Root (or Sub5) is the fifth installment of the main Submachine series.
Plot
The player starts in a different part of the lab than in Submachine 4. Mur sends a message on a computer telling the player to gather 3 wisdom gems, and then to explore the outer reaches of the net. Then the player travels to the Root - the original submachine - which is reached via the code 552 on the same portal used in Submachine 4. Then, with a new teleporter system exclusive to the root using cipher plates, the player finds connections to the lighthouse and the ancient room to collect the 2 wisdom gems there and then finds the third gem in a different location in the Root.
After finding the gems the player leaves the root and teleports to the corridor (747) and uses the gems in a machine to travel to the edge.
List of locations
Trivia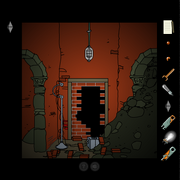 In older versions of the game, when the right inventory was full, items would prop bar to the left inventory.
See also