Submachine 9: The Temple

Link

Release date

v1 (SD/HD) March 14th 2014
v5.0 (SD) December 2017

Submachine 9: the Temple (or Sub9) is the ninth installment of the main Submachine series.
Plot
The game starts out with the player in the garden, having walked through the gateway in the previous game. The player discovers a fountain of karmic water and collects a jug of it. The player then uses it on designated bowls to open a path to the pyramid. The player continues to solve puzzles using the navigator and karmic water and heads deeper into the pyramid and the temple, discovering the tombs of Murtaugh and Elizabeth and inscriptions that detail the history surrounding the two characters and the Submachine Universe.
It is in this game that the player learns more about the climax of the conflict that had been stirring between Murtaugh and his followers. The player also learns a bit more about how Murtaugh's karma arm manipulates karma. Various references to Hindu gods, most prominently Shiva, as well as discussion about the layer of light, make Submachine 9 a game about enlightenment on multiple levels.
List of locations
Development and history
On November 25, 2013, Mateusz Skutnik posted the first[1] screenshot from the game on his website.
On December 13, 2013, Skutnik announced that the game's release would be postponed until the following year due to illness.[2] He also posted the second screenshot from the game.
A third screenshot was posted on January 28, 2014.[3]
A fourth screenshot was posted on February 6, 2014.[4]
A fifth teaser was published on February 9, 2014. [5] This one included the initial sketch along with the finished room.
On February 17, 2014, Skutnik announced that the game would be released in March 2014, stated in his release notes of Daymare Town 3 HD.[6]
On March 9, 2014, Skutnik announced on his Facebook page that the game would be finished "next week"[7] and would be released on Friday, March 14 2014 around 08:00 ET.[8]
On March 14, 2014, the game was released around 08:30 UTC +8:00.[1]
Production gallery
Trivia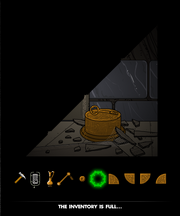 The player's inventory is limited to 10 items. If the player attempts to collect beyond this limit, text spelling "THE INVENTORY IS FULL..." will appear with a short buzzer sound effect.
References
Community content is available under
CC-BY-SA
unless otherwise noted.