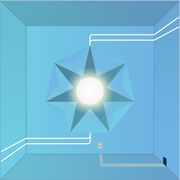 Hi! My name is Vortex, I've been a fan of Mateusz Skutnik games since 2007, when I first played Sub2. I am also the founder of the Submachine and Daymare Town wikis in Spanish language, and an administrator here. I have also written a theory, and plan to write more soon.
If you have any questions or you're looking for help, here is my talk page.
Also, be sure to check Pastel Forum if you are interested in Submachine and/or want to find more games from the author.
My favorite pages
Edit
Community content is available under
CC-BY-SA
unless otherwise noted.