The watchtower is a location in Submachine Universe.
Architecture
Edit
The architecture in this area is grouped into two parts: an "outside" section, and an "inside" section.
Most of the ground is covered in a solid blue resin-like substance with the void in the background. The karma portal is surrounded by a metal circular machine adorned with twelve blue-shining lightbulbs. A series of wires connects the bulbs to a powered hub, where a glowing blue "R" is seen (standing for "RuloCore". A thick brown cable travels from this device and snakes up a wall to the far right. This wall is the same type of toothed wall found in the spike room, except it is tinted blue. A suspended pillar, also like the one in the spike room, can be seen behind the wall.
To the left of the portal is a brown rock wall, where a passage has been dug. The remains of an excavation show blue-light floodlamps that can seemingly pick up the rocks from the wall.
The player can navigate through the rock passageway to an indoor area with wooden paneling. This area is a four-story-high tower, with one room on each floor. Each room has yellow rungs that allow the Player to move up and down, and each room is lit with an orange lamp. The first floor contains a spillage of the blue sand, a table with papers, Layer screens (like the ones seen in Submachine 7: The Core, and a telescope (as seen in Sub7) peering out a window. The second floor is a library, with shelves lined with books. Additional books are found on a chair, as well as two of RuloCore's theories. The third floor shows seven of RuloCore's sketches, either tacked up on a wall or suspended from metal posts. The fourth floor shows the top of the tower, a chair, scattered papers, and two listening devices.
This location's ambiance was chosen by Mateusz Skutnik among several pieces composed by RuloCore, author of the theories and sketches.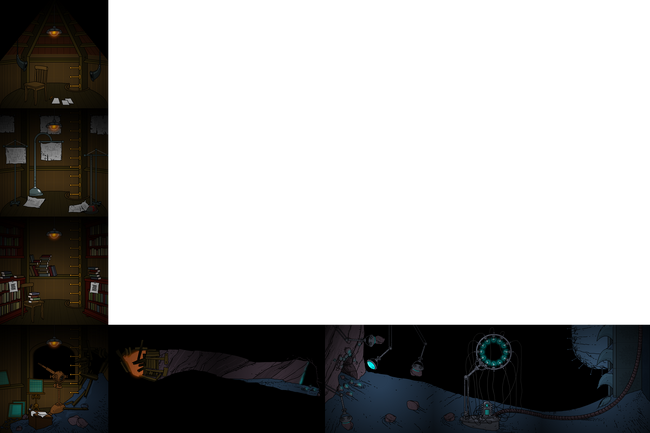 This location was released on September 14 on purpose, as a birthday gift for this fan. [1]
References
Edit
Submachine Universe locations