Winter Palace

Region

Unknown

Unknown
The Winter Palace is an area in Submachine 7: The Core.
History
[
]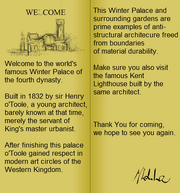 The Winter Palace was built during the Fourth Dynasty by a young architect, Sir Henry o'Toole, who later gained fame for this stunt. The structure is described in the pamphlet as a prime example of an anti-structural building. This feat was made possible more than anything by the fact that the Winter Palace and South Garden turned into parts of The Core.
Once upon a time, Murtaugh trained his ability to create karma portals, which partially shattered the fabric of reality inside the Palace. The South Garden suffered from this on a much larger scale.
This place seems to have later acted as a base for a group of people, including Elizabeth and the people who buried the lighthouse with Murtaugh inside it. However, it seems everybody left the area when the Plan was lost, due to the spontaneous growth and mutation of the Outer Rim.
Architecture
[
]
In the Winter Palace, there is a large portal door which connects to the Sanctuary. The entrance to the South Garden is to the left of this entry point. The entire landscape is in the form of a giant crumbling palace. There are several items here, as well as puzzles and notes. There is also a pamphlet rack with a pamphlet recording the history of the palace and surrounding areas. The rack and pamphlet are the same from Submachine 2 but with different text on the pamphlet.
Inside the palace is first a great entry hall with pillars and arcade lining the sides. On the other side of a barricaded door is the hall into the palace proper, which is composed of one great room with alcoves off to the sides. Statues decorate the main room at regular intervals beside the doors to the alcoves.
Scattered around the palace and its alcoves are various instruments. Some are simply observational tools, while others are a makeshift security system for Liz's ship.
Quotes
[
]
"We the King""Welcome you in Our Winter Palace""May it be home for those who seek knowledge and repel solitude"
— The King, in the carvings at the entrance.
Map
[
]
Trivia
[
]
There is actually an existing building called the Winter Palace in St. Petersburg, Russia, but the actual connection between this and the one found in Submachine 7 is unknown.
See also
[
]